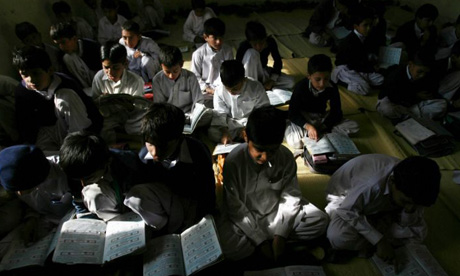 As Pakistan comes under great international pressure, this controversial charity, widely regarded as a front for the
Lashkar-e-Taiba
, opened its doors to journalists -- the doors to its classrooms and hospital. Other areas of the campus remained out of bounds. While the
BBC appears to have taken this PR exercise at face value
, the
Guardian has not
. It wrote that the
carefully orchestrated visit took foreign and local journalists around the beautifully equipped school and hospital. The school follows the national curriculum, the headteacher, Rashid Mehnaz, said, taking pupils from around the country. The poor were given financial help, with richer pupils paying fees. Mehnaz condemned violence, saying suicide attacks were "absolutely wrong - it is forbidden in Islam".

A press conference and sumptuous lunch was laid on for journalists. However, the madrasa, mosque, and other facilities remained out of bounds, and once the official tour was over the media were no longer welcome. Although the group had said anyone was welcome to look around the site at any time, the Guardian's attempt to take up this offer after the tour was met with a heavy-handed response: burly young men arrived on motorcycles and circled, demanding that we leave...

...Certainly there were plain-clothed officials present, who said they were members of "special branch" - often a euphemism for the Pakistan's ISI intelligence agency. They wanted to provide an armed escort back to Lahore, but why intelligence agents were there - and why an escort might be necessary - was unclear. Muridke is not in a dangerous part of Pakistan, and the offer was declined.

It has long been said that the ISI has secretly backed Lashkar-e-Taiba, though the agency always rejects the accusation.